Landscapes
When you think of installing a backyard swimming pool, what do you picture? Many of us focus on the shimmering water and the cool lines of the pool beneath the surface.
But what is it everyone wants in a pool? Generally it is an exotic location shrouded in greenery and tropical foliage, the definition of an oasis. At Sea Breeze Pools, we create that oasis for your space, regardless of whether you are opting for a newly installed custom pool or simply want to beautify your existing pool.
New Construction
As you may know, Sea Breeze Pools is the ultimate pool construction contractor. No matter where you are located in California, we can build you your dream pool. Obviously, opting for new construction is much easier to get exactly what you want. Designing and building a pool and the landscaping at the same time might be a longer process but the end product will feel like a tropical resort. Our talented designers will take your wish list and turn it into the pool you have always wanted, complete with tropical plants, water features and hidden alcoves. All of these upgrades are possible with Sea Breeze Pools design and build option.       
Existing Pools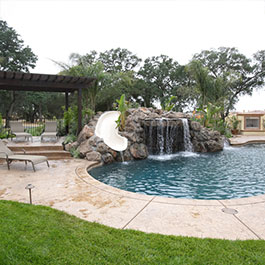 You may have a pool that you absolutely love and is still extremely functional. That is ok too! We can transform your plain old pool into a tropical oasis through a variety of  landscaping and water features. Many times, the existing landscaping will not compliment the pool in any way and we know exactly what will work, even in limited space. Let Sea Breeze pools renovate your pool and landscaping to suit your desires.   
We Build Fun
At Sea Breeze Pools, we take our jobs very seriously but we also understand that swimming pools are all about fun! We understand that the more effort we put into building your pool and landscape design, the more likely our customers are to fall in love with our work. Contact us today for more information about our pool installation and landscape design services and let us build you your oasis.